The election day has always enjoyed high audience interest, both from active voters and from people who do not go to the ballot box. This spring, the parliamentary elections challenged leading television stations to compete in a battle for viewers throughout Sunday. Interactive studios, discussions with popular guests, political scientists, sociologists and a strong presence of the presenters were among the main means by which the national televisions tried to attract the audience. To the three big televisions we added 7/8 TV station. To find out which of them did best, we present a chart with data on the achieved ratings by hours among the population of the country over 18 years of age: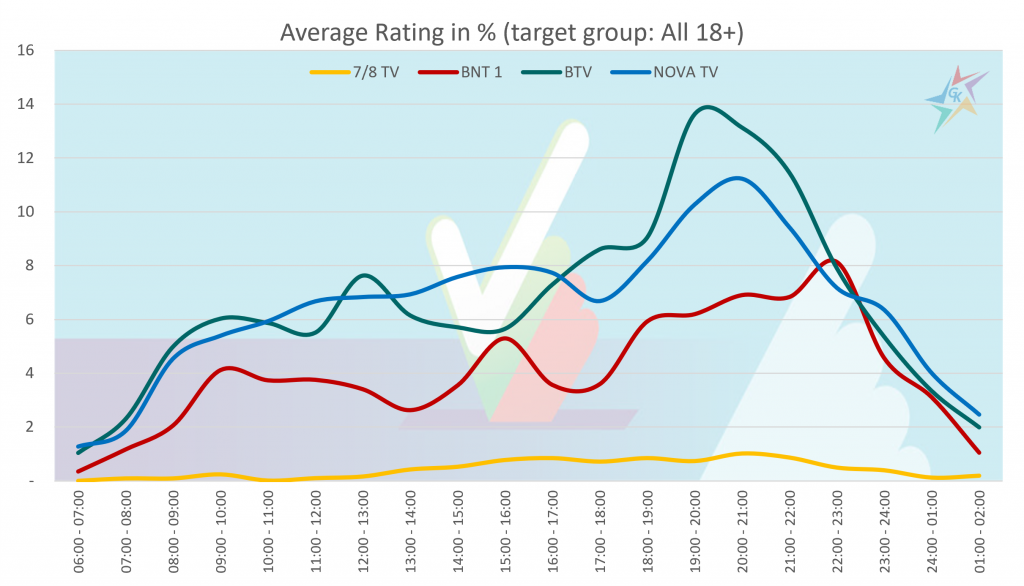 From the early hours of the morning, the televisions followed the course of election day. The graph shows that the content of the information blocks of bTV and Nova TV was the most preferred. In the earlier hours between 07:00 and 10:00 bTV leads with a slight advantage over its main competitor, but in the hours before noon, between 10:00 and 12:00 o'clock, Nova TV turns out to be the most watched. "The day begins with Georgi Lyubenov" on BNT 1 gradually attracts the audience and manages to keep it between 09:00 and 12:00. With a "jump" in the rating, the bTV news program turned out to be the most preferred among the viewers with the right to vote. Although the channel continues with up-to-date information every hour, between 13:00 and 17:00 o'clock it loses its audience, which transferred to competitive TV channels. In the afternoon, the interest in the development of the elections increased and led to an increase in the viewership of 7/8 TV, which from 12:30 o'clock began to broadcast live commentary studio. The special election program of bTV with hosts Anton Hekimyan and Svetoslav Ivanov won convincingly in the evening between 17:00 and 22:00 o'clock. It is interesting to note that after 22:00 o'clock BNT 1 reaches its highest rating for the day and wins the audience. After 23:00 all televisions start gradually losing viewers' attention.
To give a more complete picture of the preference of the different target groups during the election day, we prepared additional charts. The more curious of you can see them in the gallery:
For additional information, please contact our team via the contact form.