We present you a brief analysis of the average daily rating for the target group All 18-49 for the three main TV channels, as well as cumulatively for the main TV groups selling advertising time on Bulgarian market: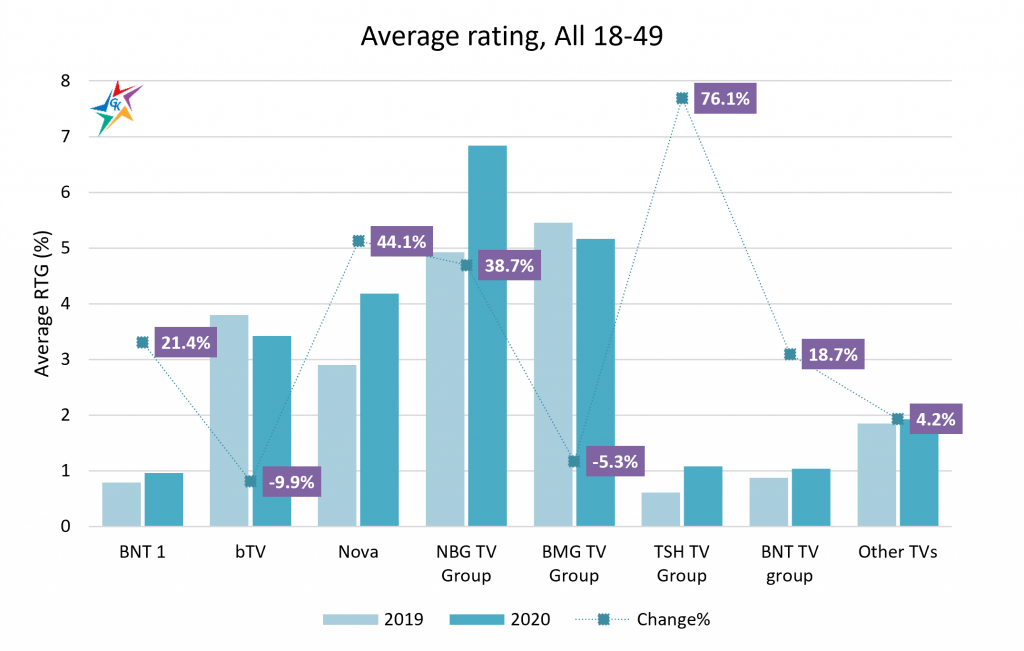 The announcement of the pandemic in mid-March 2020 and the introduction of a state of emergency in the country led to significant changes in the consumption of television content. Forced to spend more time at home, people have changed their daily habits, and part of this change is a longer stay in front of TV screens. All sport events were canceled or postponed and this had a negative impact on TV channels that are broadcasting sports content.
With the exception of BMG, all other TV groups recorded a solid increase in their average daily rating. NBG TV group marks a 38.7% increase of the average daily rating for 2020 compared to 2019, and in the main channel Nova this growth is 44.1%. BMG's decline in the average daily rating in 2020 is 5.3%, while the main channel bTV decline is even more noticeable and is 9.9%. For the first time in 2020, Nova managed to surpass its direct competitor bTV in terms of rating. It is fair to note that during the isolation bTV stopped all its premium productions, thus trying to reduce their losses caused by the sharp reduction of advertising income. At the same time, Nova did not stop any of its projects, despite the expected short-term loss of advertising revenue. At the end, NBG's decision proved to be a win-win and TV group managed to keep the audience as well as add a new one. Founded three years ago, TSH boasts a noticeable growth of 76.1%, but it is important to note that much of it is due to the adding in early 2020 of Viacom's kids channels to the group of channels represented on our market by the company. The channels from the BNT group also grew by 21.4%, but it was not enough and the cumulative average rating ranked the state TV group on fourth place.
For additional information, please contact our team via the contact form.