We present you a brief analysis of the gross advertising investment in TV for the three main TV channels, as well as cumulatively for the main TV groups: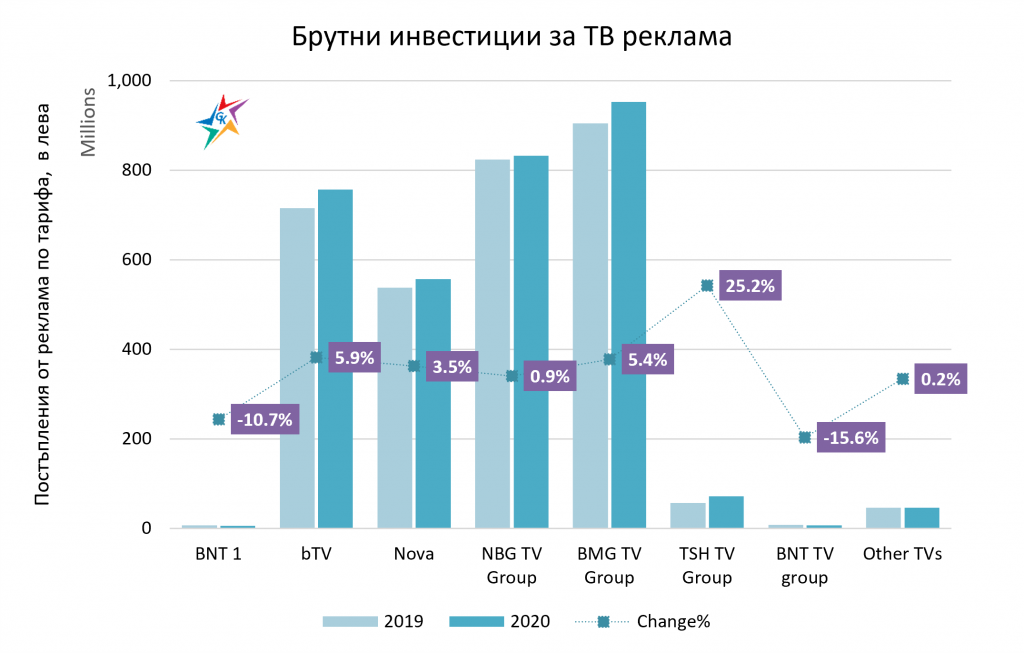 After the strong start and high activity of advertisers in the beginning of 2020, with the announcement of the pandemic in mid-March 2020 and the introduction of a state of emergency in the country, we witnessed a panic stop of campaigns by many advertisers and their postponement for indefinite period. With the onset of summer and the easing of measures, most advertisers realized that the right behavior is to adapt the strategy to the new reality as quickly as possible. In the second half of 2020, the situation is normalized and even gave cause for optimism and a fast recovery.
Analyzing the market based on gross advertising revenues, the undisputable leader is bTV and the channels of the BMG group with a growth of 5.4% and a reported volume of nearly BGN 953 million. On second place in terms of gross advertising revenues is Nova and the TV channels represented by NBG with a growth of 0.9% compared to 2019 and a reported volume of 832 million leva. The difference between the two groups is nearly BGN 121 million or 12.7%. On third place is TSH with the represented by the company niche TV channels, marking an enviable growth of 25.2%, but the reported gross investment is only BGN 72 million. It is correct to clarify that the growth of TSH is due to the channels represented by the group, which in 2019 are not reported by GARB Audience Measurement Bulgaria, as well as to Viasat's kids channels added to its portfolio in early 2020. The owned by the state BNT is the only losing TV group. Its advertising revenues declines in 2020 by 15.6% to BGN 6.1 million.
For additional information, please contact our team via the contact form.